Dear Jan,
Our long awaited improvement to the blog is here, in the form of Dr. Yarn.  You and I know and love Dr. Yarn, and I think it is time to share him.
TwinSet is happy to announce that guest contributor Dr. Yarn will answer your knitting questions. Dr. Yarn has seen sheep alongside the road for years and understands the knitting scene quite well.  He has studied his wife, mother-in-law, sister-in-law, daughter, daughters-in-law and grandson and granddaughters knitting and is highly qualified.  His insightful answers have often been featured in the monthly magazine "Daily Knitting."  Send in your questions via the comments.  Every 3 or 4 weeks Dr. Yarn will pick the best question and give an in-depth and insightful answer.
Question: Why is it so cute to see a kitty playing with a ball of yarn?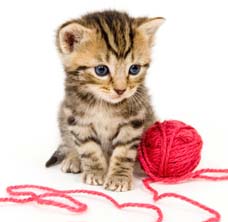 Answer: As you probably know the Ohio State University Feline Department received an early Federal Stimulus Grant of $250,000 to study this timely question. Early data indicate that cuteness is only in the eye of the beholder. Actually the kitties view balled yarn as a big hairball and are trying to dispose of it. The continuous batting and jumping confirmed this. If you have seen a kitty with a hairball, you know this is not a laughing matter and you should try not to laugh at the poor kitty.
Thank you for the timely and important question—Dr. Yarn.